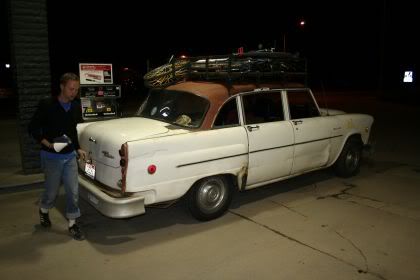 The Checka, now known as Mini Motordome, hauled two tired fools out to Alpenrose for the first race since crushing(empty beer cans) in Durango at the SSWC. For two laps all was right with the world, but the day's heat and work had worn Bobby thin and he tweeted me to inform of his withdrawal, and set his sights on training for next week while vowing to quit smoking(do you see what I just did Bobby?). I was semi killing it and passed some peeps comming off the back, but after dropping a chain seven times, I just wanted to hang out with Bobby.
But all was not lost, as good times were had running to the start with 10 seconds to spare, spending 30 minutes messing with MM's headlights, seeing a lot of friendly faces out there enjoying themselves, and informing Bobby of a vegan burrito truck he somehow didn't know of yet.

Well, the wheel slippage has been solved, I hope. And for the first race ever for my night's trusty sidekick, he figured a lot out and was all smiles afterward. He rode great in Durango, so he'll do well in cross. After some serious road miles and possibly running freewheels, next week is looking up.